Sven Style Sectional Sofa
Special Price
$3,399.00
$6,399.00
Now 48% OFF SAVE $3,049.00
Only $100 Off on order above $999. Code: EBF100
In Stock:

10000

LeftSHIPS WITHIN 24HRS
Shipping in 24 hrs (if item in Stock)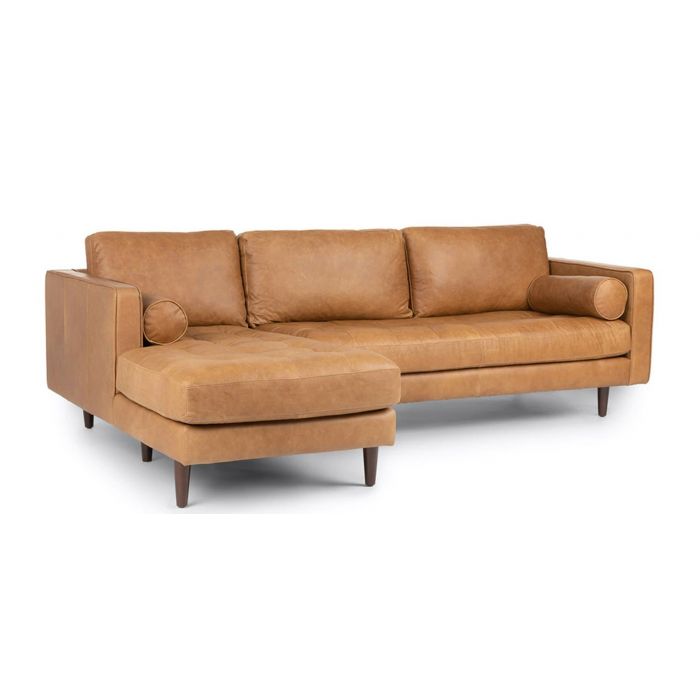 5 Year Warranty

Financing Made Easy

original quality
Looking for something else?
Did you know that it's possible to order any product from the brands we represent though it's not currently available in our online store? Contact us for more information: [email protected]
First-class Tan leather and upholstery Aniline texture made the sven sectional sofa unique. Its open aspects and comfortable extent is a piece that passes on polish, great taste, and all the force of the Mid Century Modern style. It's accessible with long padding to the left or right half of the piece, so you can pick the most advantageous variant for yourself and adjust it to a side of your lounge or spot. It is a critical spot to make a visual division of the area. This is an optimal plan to eliminate open idea floor plans and enormous compartments. Its adapted to any shape gives it a moderate touch, viable with the most famous enlivening pattern today. Its padding brings an exceptionally planned thickness to the tabletop of the line comfort. Its strong wooden frame with locked corners gives it the sturdiness and strength you want to partake in this piece into the indefinite future and make it a material gem of your family.
ICONIC FEATURES:
Cognac coloured pure Tab leather with upholstery leather in the cushion provides the user extreme softness.
Solid woods are used to make the legs, which brings both strength and beauty.
Kiln-dried wood is used to make a frame and all get sealed to avoid unnecessary accidents.
It is highly designed to enhance the beauty of your indoors.
Four polished stainless steel legs give you the added advantage of providing a strong base.
High density and duck features filled in the seats.
| | |
| --- | --- |
| STYLE / TYPE | Sven Style Sectional Sofa |
| GENERAL DIMENSIONS | 34"H x 100"W x 67"D |
| APPROXIMATE WEIGHT | 116lbs |
The product selection and pricing are both great. Very distinctive and attractive styling at a competitive price point. Great way to boost your homelife satisfaction while still on a budget.
David, Los Angeles
This is the BEST place to by mid mod design classics. We got a lamp for our restaurant and they delivered at the scheduled date and the quality was amazing!
Restaurant N'eat, Seattle
I am pretty sure that the Platner Dining chair I bought from Our Furniture may just be my very favorite thing now. I literally sit in it all the time. It is so beautiful. I am going to buy another to go with it.
Patrick, Journalist
Purchased 8 Wishbone chairs. Was very impressed with the quality. Arrived on time and the price was right. Would do business with them again
Pimlico11, London, UK
It's a lovely Tolix A Chair and looks just like the real thing. Great quality product and a very reasonable price. The delivery was very prompt and well packaged.
Persille, Paris, France
Our Furniture has one of the best quality furniture on the market. Their furniture is very well designed and crafted. Would recommend it to anyone looking for a sleek, comfortable, and affordable mid-century furniture.
Frank, Interior Designer